New Horizons Challenge Coin Award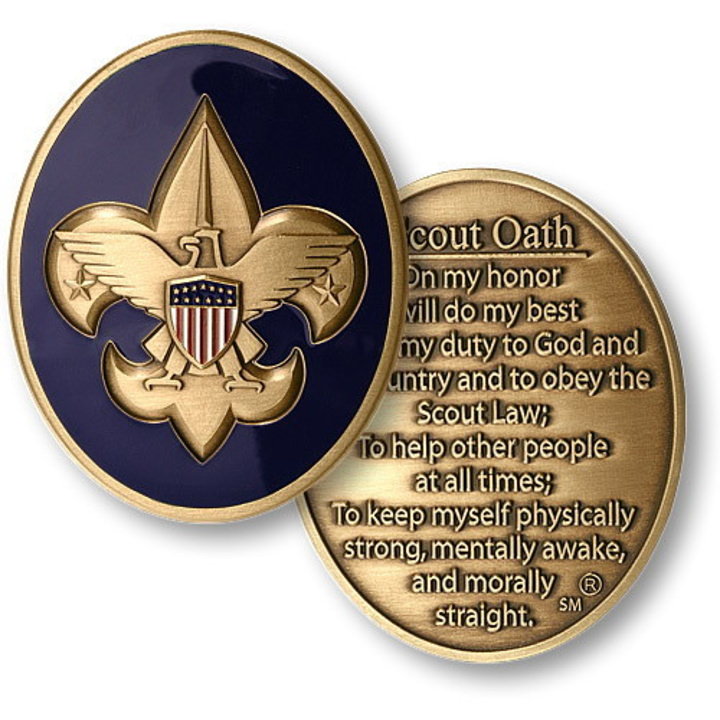 What is a Challenge Coin?
According to most professionals, organizations, and traditions, a challenge coin is a small coin or medallion used to recognize special achievements and boost morale. Historically, Challenge Coins surfaced during the World War I Era. The practice of carrying a coin designed specifically for a unit was with the Air Force and Army Special Forces. An individual would carry the Coin at all times and present it to prove affiliation with the organization.
Members of law enforcement, military, and civic service are accustomed to these small tokens of appreciation, and the New Horizons' District will begin a new tradition by presenting a Challenge Coin during our Monthly District Committee Meetings.
New Horizons District Challenge Coin Recipients
June and July 2018
Jamaal Brooks (2018 Adventure on the River- Camp Director)
Jeremy Davis (2018 Adventure on the River- Program Director)
Tina Clark (2018 Adventure on the River- Camp Registrar)
Pastor Brian Prince and Valor Academy 2018 Adventure on the River- Food Supplier)
2018 Adventure on the River Day Camp Volunteers (Adults and Youths)
Kent Hathaway (2018 Adventure on the River- Camp Graphic Designer)
Ben E. Keith
Oklahoma Army National Guard
Perry Publishing and Broadcasting
OKC Hearld Newspaper
OKC Fox 25
Black Chamber of Commerce
OKC Boathouse District (Todd Goodman and Aasim Saleh)

May 2018
Harley Lackas (Troop 1402- 2018 NH Eagle Scout)

April 2018
Cornerstone United Methodist Church in Oklahoma City
Ebenezer Baptist Church in Oklahoma City
Quayle United Methodist Church in Oklahoma City
Green Pastures Church of Christ in Spencer
(These Locations Support our Cub Scout Programs during OK Statewide Teacher Walkout)

March 2018
Chad Walker (Committee Chair for Cub Scout Pack 3374- Piedmont, OK)
Millwood Public Schools (Superintendent Cecilia Robinson-Woods)
Tony and Kathy Zabloudil (Eagle District- Edmond, OK)
Oklahoma State Representative George Young (House District 99)

January and February 2018
Cynthia Knight (District Activites and Civic Service Chair)
OKC MLK Coaltion
Arlene Vogel (Cub Scout Pack 3277)
Hector Hernandez (Meinders Scout Shop)

December 2017
Cornerstone United Methodist Church (Oklahoma City, OK)
Green Pastures Church of Christ (Spencer, OK)
Quayle United Methodist Church (Oklahoma City, OK)
Carla Rossi (Cubmaster of Cub Scout Pack 1636)
Anna Parsons (Cubmaster of Cub Scout Pack 1500)
Hunter Reese (Troop 1402- 2017 NH Eagle Scout)
Henry Soper (Pack 1500- 2017 District Top Popcorn Seller)

November 2017
Sanford Jackson (Principal of Spencer Elementary/Pack 1973)
Kelley D. Coleman (Principal of Green Pastures Elementary/Pack 1975)
Jason Mack (Principal of Dove Science Elementary Academy/Pack 1974)
Joseph Gutierrez (Cubmaster of Cub Scout Pack 1634- F.D. Moon Academy)
Ivonne Gutierrez (Assistant Cubmaster of Pack 1634- F.D. Moon Academy)

October 2017
Cynthia Knight (District Communications Chair)

September 2017
Brian Linley Jr. (District Health & Safety Chair)

August 2017
No Receipents

July 2017
Latanya Harris (Adult Volunteer from 2017 Adventure on the River Day Camp)
Mark Knight (Adult Volunteer from 2017 Adventure on the River Day Camp)
Chad Cundiff (Service Area 1 Field Director for the Last Frontier Council)

May and June 2017
Reggie Johnson (District Chair)
Myron Knight (District Membership Chair)
Jason Soper (District Popcorn Kernel)

April 2017
Justin McIntosh and Dillon Griffin (Cubmaster and Assistant Cubmaster of Pack 1510)

March 2017
Tammy Coffee (Charted Organization Representative of Pack 1500)
Burnitta Fugett (District Committee Member/ Cubmaster of Pack 1504)
Gary Jones (Troop 1101/ District Commissioner)

February 2017
Sheila Valero (District Committee Member/Cubmaster of Pack 3523/Scoutmaster of Troop 0523)
Tony Reese (Scoutmaster of Troop 1402)
Judith Lawler (District Committee Member/Cubmaster of Pack 1506)

google-site-verification=sSYIZ_NTJRFtxsEvcZ0gKg32zYkxZQKgPfK32m8sTr8