BB Religious Emblem Event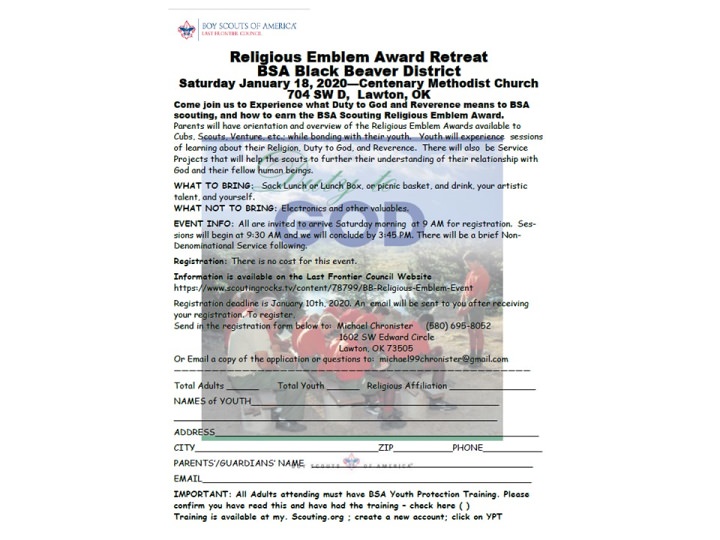 Date/Time:
Jan 18, 2020 9:00 am to 3:00 pm
Location:
Centenary Methodist Church
704 SW D Ave
Lawton, OK 73503

POC is Michael Chronister michael99chronister@gmail.com
Come join us to Experience what Duty to God and Reverence mean to BSA scouting, and how to earn the BSA Scouting Religious Emblem Award.
Parents will have orientation and overview of the Religious Emblem Awards available to Cubs, Scouts, Venture, etc.; while bonding with their youth. Youth will experience sessions of learning about their Religion, Duty to God, and Reverence. There will also be Service Projects that will help the scouts to further their understanding of their relationship with God and their fellow human beings.
WHAT TO BRING: Sack Lunch or Lunch Box, or picnic basket, and drink, your artistic talent, and yourself.
WHAT NOT TO BRING: Electronics and other valuables.
EVENT INFO: All are invited to arrive Saturday morning at 9 AM for registration. Sessions will begin at 9:30 AM and we will conclude by 3:45 PM. There will be a brief Non-Denominational Service following.
Registration: There is no cost for this event. Registration deadline is January 10th, 2020. An email will be sent to you after receiving your registration. To register, Send in the registration form below to:
Michael Chronister
1602 SW Edward Circle
Lawton, OK 73505