John Nichols Spring Family Camp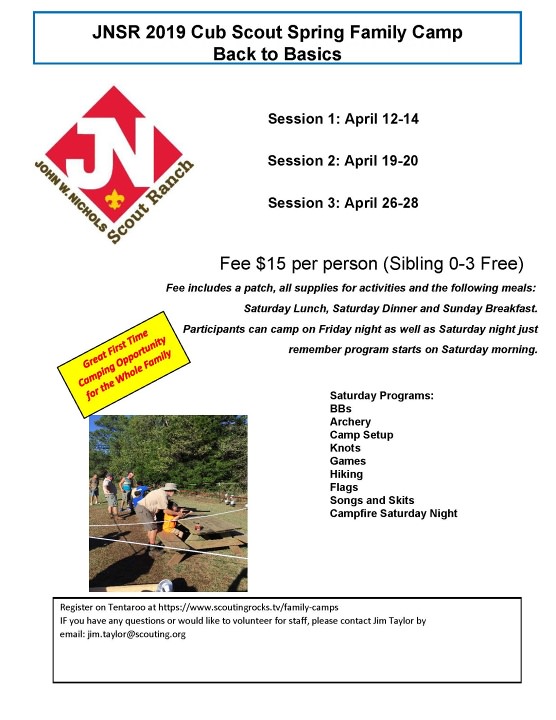 Fun for the ENTIRE family! Great opportunity to introduce your new scout parents to Cub camping!
Spring Council Family Camp
2019 Last Frontier Council Spring Cub Family Camp
The Last Frontier Council Cub Family Camp will follow the Guide to Safe Scouting and Youth Protection Standards. The Guide to Safe Scouting can be downloaded for free at http://www.scouting.org/scoutsource/HealthandSafety/GSS/toc.aspx. Information for Youth Protection Training can be found here: http://www.scouting.org/Training/YouthProtection.aspx.
Destination/Arrival Time
Plan to arrive at John W. Nichols Scout Ranch on either Friday night or Saturday morning.
Departure time is Sunday before 11:00 am local time.
Saturday arrival and departure times – Please arrive before 12 pm. Checkout is at your convenience.
Check-In Procedures
To be safe and fun, please bring the following items to check-in at the Director's Station (Program Building).
Roster of entire group
List of youth and adults checking in with you when you arrive.
Paper BSA Medical Forms (A&B) for ALL individuals.
You will receive at check in
Schedule of Activities
Camp Site Directions
Patches
Per the Guide to Safe Scouting, the following items are NOT allowed at Cub Camp.
No Alcohol
No Controlled Substances
No Tobacco Products (including electronic cigarettes)
No firearms (even with concealed carry permit) except for BB guns and Archery provided by Last Frontier Council.

*IF you have an allergy, please advise at the time of registration.