Sweat for Scouting Virtual 5K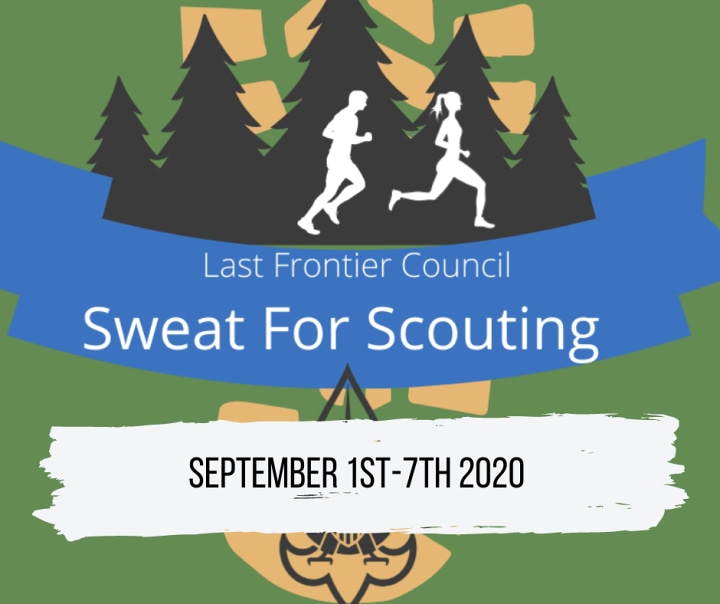 RUN, WALK, CARTWHEEL YOUR 5K ANYWHERE & ANYTIME SEPTEMBER 1st-7th

Time to sweat in the summer heat and support local youth as they continue their adventures with Scouting! With hundreds of families and many programs affected by the pandemic, we want to make sure that Scouting stays strong in our local communities and continues to help push youth to be the best version of themselves.
The Last Frontier Council serves more than 12,000 youth and more than 4,000 volunteer Scouters and adults enjoying and delivering the promise of Scouting in twenty-four counties across central, western, and southwestern Oklahoma!
A Scout is:
Trustworthy,
Loyal,
Helpful,
Friendly,
Courteous,
Kind,
Obedient,
Cheerful,
Thrifty,
Brave,
Clean,
and Reverent.
All funds generated from this event will go DIRECTLY back into local Scouting and the families and activities in the Last Frontier Council.


| | | |
| --- | --- | --- |
| Ways To Participate | Individual Cost | Group of 4 Cost (10% Discount) |
| July Registration (register before 7/31) | $18 | $65 |
| August Registration (register before 8/31) | $25 | $90 |
| September/Week of Registration (8/1-8/7) | $30 | $108 |
| Couch Supporter | Any | N/A |

HOW TO PARTICIPATE IN THIS VIRTUAL RACE / CHALLENGE:
Register at https://bit.ly/Sweat4Scouting
If you want to Track your run to be considered for awards in our award categories join us on the Strava Run/Walk app
Run or Walk using Strava- Instructions to our Group page will be sent in a follow-up email soon!

The Sweat for Scouting 5K Registrants Will Receive:
A one of a kind collectible Sweat for Scouting 5k Patch
Online printable race bib
Access to our special Sweat for Scouting Spotify playlist
Access to our additional T-Shirt order link
ABOUT THE ORGANIZATION:
With nearly 300 local councils, the Boy Scouts of America is active and involved in nearly every community in America—and some that are overseas. Your financial support helps the Last Frontier Council continue on our mission get kids in Scouting and keep them in Scouting to make a positive impact on their lives.
By giving to the Last Frontier Council BSA, you are directly supporting your local Scouting programs — programs that teach leadership skills, provide countless hours of community service, and teach youth the values of trustworthiness and teamwork. The Last Frontier Council is a 501(c)3 nonprofit organization.